Guide Center (Shibuya)
At Shibuya Station, Tokyu provides a service staffed by dedicated personnel ready to advise on the station layout and railways as well as straightforward information about the Shibuya area.
Shibuya Station Concierge
As well as setting up an information center along the connecting passageway on basement level 4, staff provide guidance while patrolling near the Hikarie ticket gates, Miyamasu ticket gates, Hachiko ticket gates and ticket purchasing areas. In addition, Information booths have also been set up at the Shibuya Chikamichi Lounge and Shibuya Chikamichi General Information. Concierge staff who speak English are happy to provide information to customers visiting Shibuya on the Shibuya station layout, the locations of exits, train information (transfers and timetables) and maps of the area around Shibuya station.
Reception Hours:
Shibuya Station Basement Level 4 Connecting Passage and near station ticket gates:
10:00 a.m. to 6:00 p.m. (year-round)
Shibuya Chikamichi Lounge, Shibuya Chikamichi General Information:
10:00 a.m. to 10:00 p.m. (year-round)
Shibuya Chikamichi General Information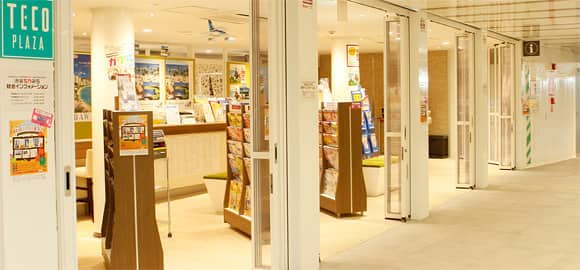 Services are offered to make your visit to the Shibuya area a pleasant one. Please make use of the services if you require any assistance.
I want to travel light as I enjoy shopping!
Baggage Storage Service
Operating Hours: 10:00 a.m. to 6:00 p.m.
Cost: 600 yen per Baggage(must be picked up on the day checked in)
Tel: 03-5456-6361
I want to enjoy myself until late so I need to book a hotel in Shibuya!
Tokyu Travel Center in Teco Plaza, Shibuya Station Provides Information and On-the-day Reservations for Accommodation Facilities
(The center also deals with package tour products, plane tickets and tickets for services such as highway buses)
Operating Hours: 10:00 a.m. to 7:00 p.m. Tel: 03-5456-6361 http://www.tecoplaza.com/
We also offer the following services.
I want information on Shibuya station!
At the Concierge Counter, concierge staff are ready to assist with your troubles.
Tokyu Tokyo Metro Shibuya Station Tourist Information Center
As a tourist information center for foreigners certified by the Japan National Tourist Association (Tourist Information Office) English-speaking staff are assigned to the center and are ready to provide railway transfer information, route-based sightseeing information, maps and guidebooks to customers visiting Shibuya not only from around Japan but all over the world.
Services
Transportation information focused on the Tokyo metropolitan area
Route-based sightseeing information for the Shibuya area
Shibuya Station layout information
Provision of maps and guidebooks
Operating Hours: 10:00 a.m. to 7:00 p.m.